It's time again for Travel Tuesday, a weekly linkup with Belinda of Found Love. Now What? and Bonnie Rose of A Compass Rose. This weekly linkup is a fantastic way to meet other bloggers and also to find great travel inspiration. Please stop by the linkup and make some new blog friends!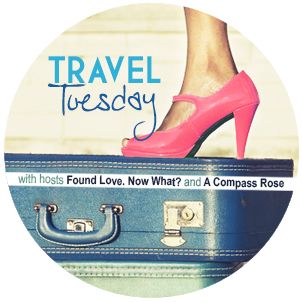 Today, I'm taking you to a few churches in Luxembourg City.
Oh, Luxembourg City. Where do I even begin? The city travel office, that's where. If you're in a foreign city for the first time, this should always be your first stop. Do not pass go, do not collect $200, just do it. You'll thank me later. I promise.
As soon as I found a parking space in a garage, I hot-footed it on over to the Luxembourg City Travel Office at Place Guillaume II, the city's main square. The Saturday market vendors were just setting about moving out for the day, so it was a bit of a madhouse. The young lady at the counter in the office was very helpful and gave me a handful of free brochures and maps to help me throughout my day. I also bought the "Discover Luxembourg" travel guide for a few Euro, and it was very helpful in giving a bit more detail about the sites on the self-guided walking tour.
I also purchased a Luxembourg Card. This is a great deal for those who know they will be making repeat visits. You can buy the card for one, two, or three days, and the tickets are either for individuals or families. The days do not have to be used consecutively. I bought the three day pass for 27 Euro, as I definitely plan to return. The brochure that comes with the card is very helpful and details the free access to 61 attractions and discounts to many others that you get with the card. You are also entitled to free transportation on the bus and rail lines within Luxembourg. Great deal! I did not get paid to endorse this deal, but I had to because it's just that fantastic. Go to visitluxembourg.com for more information.
I recommend requesting the City Promenade brochure, which has detailed directions on how to go about a self-guided walking tour of the city. The brochure estimates that this self-guided tour will take you about four hours, but that's only if you do not plan on reading anything interesting, taking pictures, or grabbing a bite to eat. I only got through about half of the tour and had to call it a day.
Wear comfortable shoes and make sure your camera battery has a full charge. Luxembourg City is absolutely gorgeous and you'll want to capture as much of it as you can. Visit the Luxembourg City Tourist Office's website for more information on guided tours.
Aaaaannnd here we go with the picture overload. I had THE BEST time on this day trip, and took almost 500 pictures. Don't say I didn't warn you!
Because I took so many pictures and visited so many sites, I'm going to break this travel post into two parts. Come back next Tuesday if you enjoy what you see today. Today I'm going to focus on the churches I visited in Luxembourg City.
The Cathedral to the Blessed Virgin in Luxembourg City is also known as the Notre Dame Cathedral. It is quite an impressive structure. With two entrances on different streets, I ended up visiting it twice. The first visit occurred when I exited the parking garage and the alternate entrance was right in front of me. Later on, after I had started on the self-guided tour, I entered through the main entrance.
These are the pics I took on my first visit…
 And then again, this time with some help from a handy pamphlet…
The Ancient Jesuit College is attached to the Notre Dame Cathedral, but has been used as the National Library since 1970.
I visited two other incredibly beautiful churches this day. This is the Congregation Church:
The final church I visited was Saint Michael's Church, which is the oldest shrine in the city.
That wraps up the churches I visited on my trip to Luxembourg City. Please come back next Tuesday to catch the second part of my recap, where I'll cover the casemates, the city administrative offices and palaces, and the public squares. I hope to see you then!
Have any of you made a hobby of visiting and/or photographing amazing churches?